Meet Marliya, a North Queensland Indigenous choir whose young female members are telling important stories through voice and movement.
Before the young women of Marliya walk onto the stage to perform Spinifex Gum with the Melbourne Symphony Orchestra in July, their feet will symbolically touch the country they
sing about.
Prior to every concert, they walk over a work of art designed for that purpose, created for them by a Yindjibarndi artist of the Pilbara country. It's an important ritual, one that helps this acclaimed group of young Indigenous singers maintain contact with the spirit of the world they sing about, no matter how far away they are.
"We always move as a unit," says Ashleigh Ung, 16, who has sung with Marliya since she was 12. "We are diverse, but the same. We are family."
Ung is a member of the Wakaid group of the Badulgal people of Island in the Torres Strait. She lives in Cairns, as do most of the members of Marliya (it's pronounced Mar-lee-a), who are aged 12 to 20 and come from a wide range of backgrounds and interests. Some are fitting in choir with volleyball practice or the final years of high school, while others are studying to be a nurse or working in childcare.
"Being part of this choir is amazing," Ung says. "We are like sisters and when we sing different harmonies together, it sounds so beautiful."
Marliya was founded in 2015 as an all-female offshoot of Gondwana Indigenous Children's Choir, specifically to give voice to Spinifex Gum, a song cycle composed by Felix Riebl and exploring aspects of Indigenous life in WA's Pilbara country.
After performing Spinifex Gum around the country since 2016, Marliya is now preparing to perform the work with the MSO. It will be the first symphonic setting of the work.
"I'm really excited about it because this is a new kind of collaboration for us," says Ung, who describes Marliya's sound as "alternative pop".
"There is the choral aspect but there are synthesisers and beats, it's modern-sounding," she explains. "And it's a real emotional roller-coaster. Some of the songs are about sisterhood and friendships, but we also sing songs about important issues like Indigenous deaths in custody, land rights, or youth detention centres. So yeah, sometimes there's tears but there's also joy."
"To find your voice, you first have to find out who you are."
Demands and rewards
Spinifex Gum was just 30 minutes long when it was unveiled in 2016. Since then, Riebl and his musical partner – and The Cat Empire bandmate – Ollie McGill have expanded it into a CD-length project (recorded/released in 2017 featuring the voices of Briggs, Peter Garrett and Emma Donovan) and then into a unique concert showcase.
It's a demanding show for the performers, Ung says. "When you join, you have to learn the lyrics in Yindjibarndi language as well as learning the choreography," she says. "It's really hard! I joined Marliya when Spinifex Gum was still being developed, and I only had about four weeks to learn everything. We rehearsed every single day and I'm not gonna lie, there were some days where I thought, 'I don't want to get up and do this anymore.' I'm glad I did though, because the rewards have been amazing."
Jasmin Adams, 20, agrees. Like Ung, she's also a veteran of the first incarnation of Spinifex Gum and has performed it across the country.
"I went to the Pilbara when I was 14," says Adams, who is a Jarowair and Wuthathi woman. "It was very different to Cairns – a lot of red dirt, a real desert environment. We met the local kids and the elders and learned about some of the issues they face – a lot of things I wasn't aware of at the time. Being in Marliya has taught me to stand up for other Indigenous people and to be proud of my heritage."
"We are diverse, but the same. We are family."
A sense of journey
Lyn Williams is Artistic Director and Founder of Gondwana Choirs and has watched Marliya evolve into a critically acclaimed touring ensemble with two albums under its belt and a third on the way.
"I work with a lot of children's choirs, but Marliya is really something special," Williams says. "They have a different sound – a richness and emotional strength. You feel they have a very strong need to communicate."
Spinifex Gum became a much more theatrical show as a result, adds Williams. "There's a strong visual element and choreography but there's also a dramatic arc, a sense of journey, and the girls really express themselves on stage."
Some of the original Marliya ensemble have moved on over the years, with younger singers taking their places. Another unique aspect of the group is the way that continuity and community is self-managed, says Williams.
"One of the beautiful things about Marliya is that the older girls teach the new ones all the choreography and the nuances of the songs. The youngsters hang on every word and they work so hard. I'm so impressed by the way the knowledge of the show and the intricacies of the performance are passed down."
They are enormous fun to tour with, too, Williams adds. "There's no drama, no fuss, they know what they are here to do. No-one wants to be a pop star. It's all about the collective."
Ung says she was drawn to the choir by the opportunity to make music but has stayed for the sense of sisterhood and the lessons she learns from being part of a touring company of singers.
"I've grown up in Marliya and I've gained a lot of confidence," she says. "I've also learned that sometimes there have to be moments where I need to be quiet and do as I'm told!
"But the main thing I've learned is that to find your voice, you first have to find out who you are. Then you can express the things you care about.
"Take the thing you are passionate about – which, for me, is music – put something important behind it and convey it to your audience. Then it can hit them like a freight train."
She adds: "I hope the audience really feels that roller-coaster of emotion; I hope they learn something.
"So much of what we're singing about is important and relevant. But even with the happy songs, I hope they feel the bond that we share with each other on stage and off stage. That's who we are as people, that's who we are."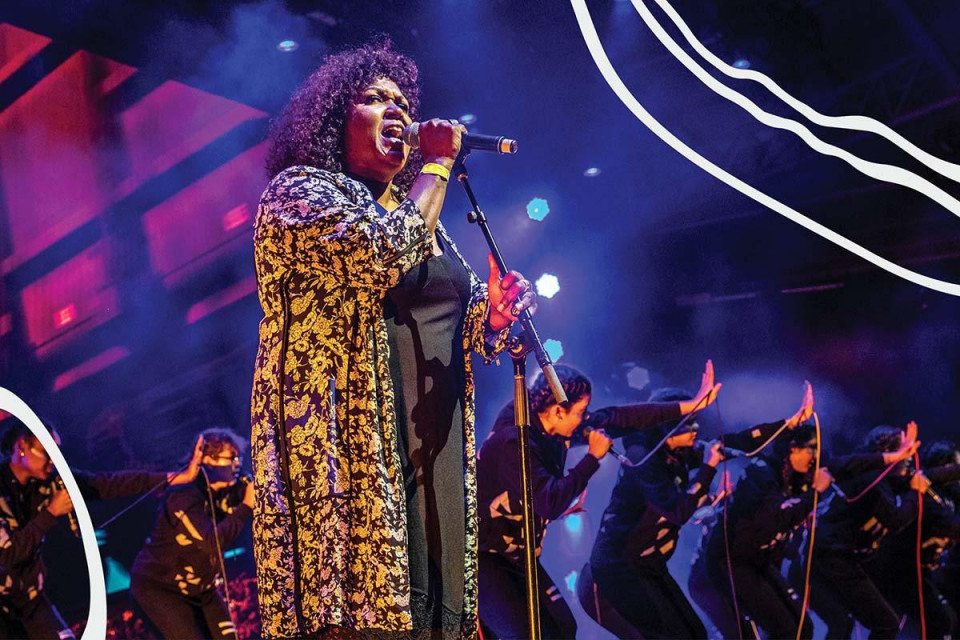 MSO + Spinifex Gum
Marliya performed as part of MSO + Spinifex Gum, with Emma Donovan, Felix Riebl and Ollie McGill on Saturday 9 July 2022 at Hamer Hall as part of NAIDOC Week. MSO + Spinifex Gum is proudly presented by MSO Major Partner Equity Trustees.
Learn more