Travelling for work is a unique privilege in any profession, and in my job with the Melbourne Symphony Orchestra I'm exceptionally lucky. Being a full-time classical musician can see me travel internationally up to eight times a year and as a result, I've got travel down to a fine art… and have become well acquainted with T2 at Melbourne Airport along the way.
My business trips tend to look a little different to the average traveller though. This is because of my 170 year old partner in crime, Charlie; my beautiful French-English cello made by Charles Boullangier in 1849. Given his size, age, and fragility Charlie makes air travel a little more complicated than just your average trip overseas.
For a start he needs a (full fare) seat next to me on the plane, weighs 6.5kg, is 1.3m tall, and even has to get specially strapped into the window seat.
Because Charlie makes travel a tad trickier, I like to make things easy!
Here are my top 5 international travel tips, tried and tested across the world… all while carrying an old, expensive Frenchman on my back.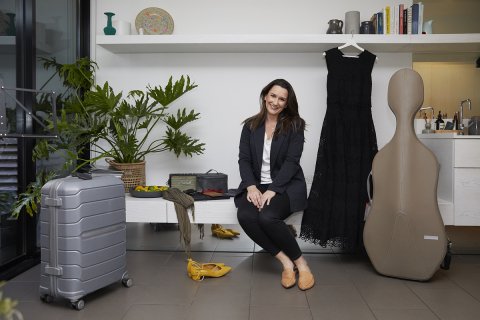 1. PACK LIGHT, 'MARIE KONDO' STYLE
As well as carrying Charlie, I have to account for bulky concert dresses and shoes in my suitcase, so I always try to make clever decisions when it comes to what clothes I take.
The question isn't so much "will it bring me joy?" but more "can I wear those pants/shoes/shirt with something else to create a new outfit?" … if the answer is "no", it doesn't go!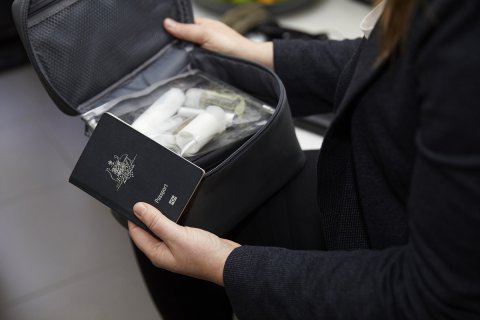 2. AN ORGANISED SUITCASE IS PORTABLE SANITY
There is nothing worse than arriving at a destination, jetlagged, having to quickly get into work mode and not being able to find anything amidst a chaotic explosion of your own belongings. My answer to this: Muji.
They have literally everything travellers could possibly need, including packing cubes for your clothes, shoe bags, amazing little bottles to siphon off your shampoo into. It's the Mecca for travellers (or anyone else that gets a dopamine rush from organising their life).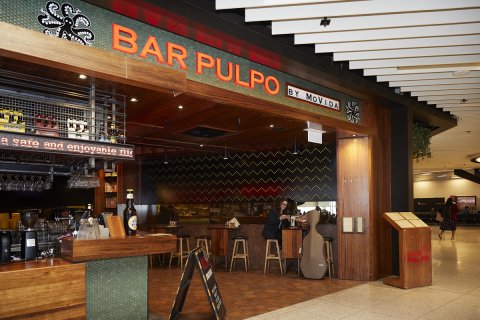 3. AIRPORT ROUTINES ARE CALMING
Once Charlie and I are through security and immigration it's our little habit to go straight to Bar Pulpo by MoVida for a little bite to eat and a glass of bubbles. 'Date night' with Charlie has become quite the routine for the two of us, and T2 at Melbourne Airport has some pretty delicious options for pre-flight meals.
However, if it's a bit too early in the day for bubbles, I'm likely to be sipping a piccolo at St. Ali, desperately savouring the taste of a real Melbourne coffee.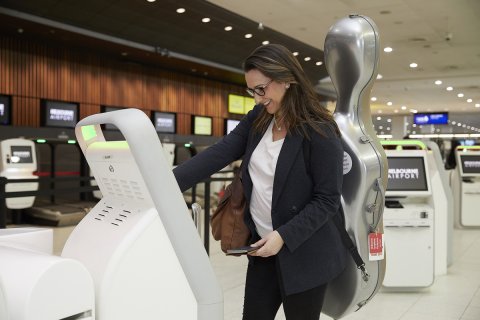 4. WELL EQUIPPED CARRY-ON MAKES LONG HAUL EASIER
With Charlie on my back I make it a point to only take a large handbag with me as carry on, but after years of travel (and a few missed connections) I now know exactly what I need to make the trip go as smoothly as it can.
Aside from the usual things like passport in an accessible spot, this includes noise cancelling headphones, cashmere wrap to rug up in, and some of my favourite peppermint teabags to bring a little bit of home comfort into the air with me.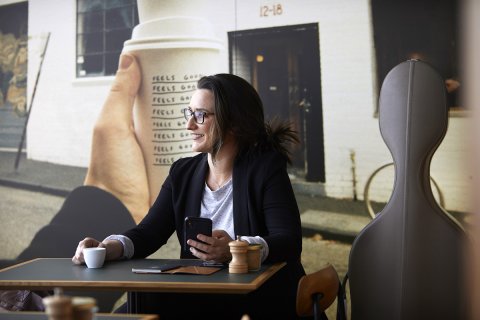 5. LEARN TO 'EXIST' IN YOUR DESTINATION
Once I get to my destination, I'm usually torn like most business travellers: I'm in an amazing foreign city, but I have to work! Therefore, when I'm gifted with spare time, I try to not fill it galleries, museums, and must-see sightseeing because I find that I lose the sense of truly experiencing the city that I'm in.
The best way to describe my style of travel is perfectly summed up by the French word 'flâneur', which Charles Baudelaire adapted to mean "a person who walks the city in order to experience it." This is me wherever possible, just taking in the city… occasionally giving Charlie the afternoon off, and constantly reminding myself how lucky I am to pay the world a visit.
Words: Michelle Wood | Images: Laura Manariti