Do I need to purchase tickets?
The Sidney Myer Free Concerts are free, non-tickets events. This means that entry is provided on a first-come-first-serve basis. Once the attendee capacity number has been reached, entry will be closed. We recommend arriving early to avoid missing out.

What time do gates open?
Gates open at 4pm, with all concerts beginning at 7.30pm.

Can I get a pass out after I've entered the event?
No. Pass outs cannot be facilitated. At these free shows, once capacity is reached, it is a 'one out, one in' basis.
What is the capacity of each event? Are there limitations due to Covid?
The Sidney Myer Free Concerts will be operating at the maximum capacity, which is roughly 12,000. This means you will be seated next to and near other patrons. Due to Covid, we will require that all attendees are at least double vaccinated and have their vaccination certificates available.
Do I need to be vaccinated to attend?
Yes, vaccination is necessary to attend the Sidney Myer Free Concerts, and to attend all MSO concerts. There will be a check in point at the entry of the event where staff will verify each person's vaccination certificate.

Will attendees need to wear face masks?
While not compulsory, it is recommended to wear a face mask. Venue safety measures also include hand sanitiser stations, card-only payments (no cash), as well as venue cleaning and contact tracing.

Can I bring my own food and drinks?
You are welcome to pack a picnic and bring your own food to the Sidney Myer Free Concerts. Please note that glass, hard-sided containers or large eskies and large/sharp knives are not permitted within the venue. There are also free refillable water stations available. We recommend you bring your own reusable water bottle (no glass) to the event. Please ensure your water bottle is empty when entering the venue. A moderate amount of BYO alcoholic beverages is permitted to these concerts.

Are there food trucks? Is there a bar?
A range of food and drink choices will be available at the event. Various food trucks will be onsite, as well a bar for those over 18 years of age (Proof of age will be required). Please note that the Sidney Myer Music Bowl is a cashless venue, accepting Visa / Mastercard / American Express only.

Can I bring chairs, sun umbrellas or other seating/structures?
We encourage you to bring a picnic rug or floor seating. Chairs that are raised higher than 20cm off the ground are not permitted, and you cannot bring or set up any umbrellas or shade structures.

Is a cloakroom available?
Yes, there is a free cloakroom facility available. The cloakroom is located outside the venue, to the right of the Gate 1 entrance.
Are these concerts suitable for children?
Yes, families and children are welcome at the Sidney Myer Free Concerts. All children under the age of 15 must be accompanied by an adult. If bringing children, please consider the 7.30pm start time, and the check the weather conditions for the evening of the concert.

Is the Sidney Myer Music Bowl an accessible venue?
Yes, the venue is wheelchair, walker and scooter accessible. Assistive listening devices are also available and service animals allowed. If you have specific questions related to accessibility, please contact our friendly Box Office team
on (03) 9929 9600, Monday–Friday, 10am to 6pm.

Can I bring my pet to the concert?
Unless you have a registered service animal, you cannot bring any animals or pets to the concerts.

What is the weather policy?
The concerts will go ahead - rain, hail or shine. The Sidney Myer Music Bowl is an outdoor amphitheatre. If rain or bad weather occurs, the show will proceed, unless deemed unsafe to do so. If it's looking a little rainy, don't forget to bring a raincoat.
Umbrellas are allowed into the main lawn area but are required to be closed during the performance so as not to obstruct the view of those behind you.
Ponchos are available at the venue.
Can I purchase MSO merchandise at the concerts?
Yes, the MSO Box Office team will be selling branded merchandise, including these premium picnic blankets. Head to the MSO Shop to see some of the merch we will have on offer.
If you have further questions about the Sidney Myer Free Concert series, get in touch with our friendly Box Office team on (03) 9929 9600, Monday–Friday, 10am to 6pm.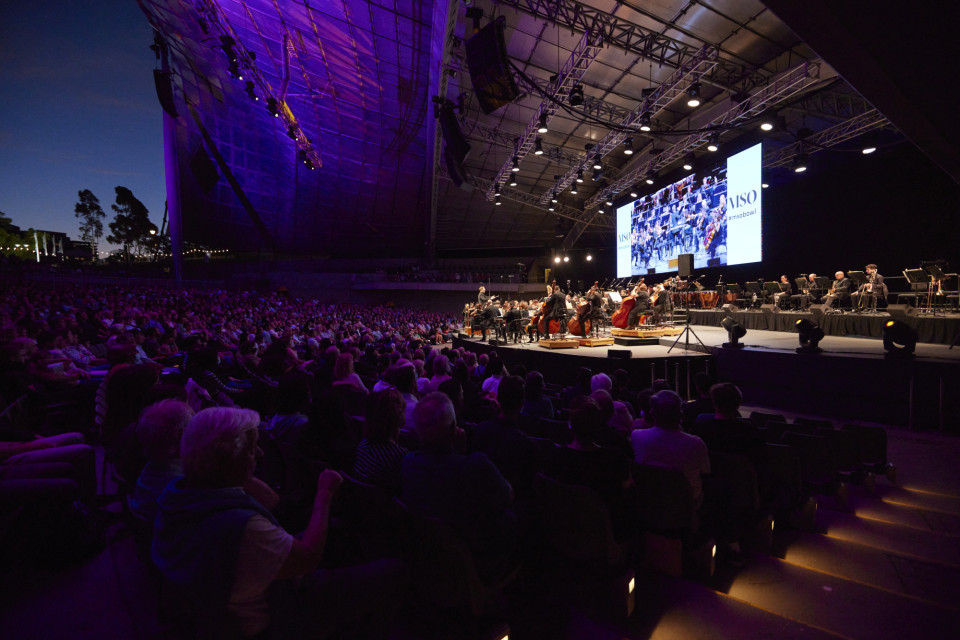 2022 Sidney Myer Free Concerts
Learn more about our February concerts, including the programming and special guest artists.
Concert information